so I think we are all aware that Tuxedo Mask is a big ball of dork 
but did you know that underneath his suit beats a very tearful emotional woobie-riffic heart
just look at that face
Does this surprise you? It shouldn't. MAMORU HAS A DEEPLY SENSITIVE SOUL. HE COMPOSES HAIKUS ON A REGUALR BASIS AFTER ALL.
There is the fact that not only did his parents die in a horrible accident but it happened on his BIRTHDAY. And that's like the only thing he remembers. "for my sixth birthday I got the present of my parents dying and permanent amnesia. Also some weird doctor patted me on my injured head which is not correct protocol at all. I sued."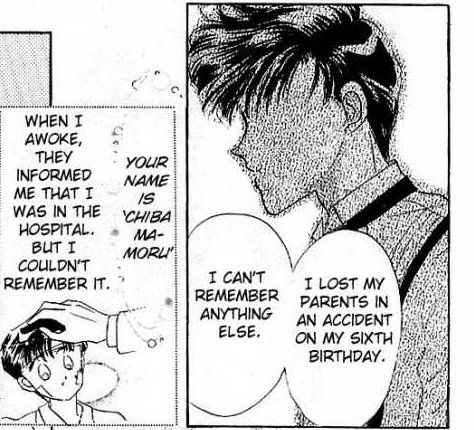 no matter how awkwardly your birthday party goes, you could be Mamoru. Just remember that.
In anime continuity he found an alien boyfriend who immediately had to leave leading to intensely cute tiny tears
fortunately his future girlfriend gave him a rose to give the parting friend, a moment that moved him so deeply he decided to, like, center his entire life around roses. Very sensitive soul indeed. He convinced himself that he had hallucinated his alien boyfriend out of sheer loneliness but that illusion was shattered when said boyfriend came back and actually impaled him while attempting to murder his girlfriend, then kidnapped him. It happens.
The fact is that Usagi is the one thing that makes Mamoru's life not INTENSELY LONELY at all times. 
she is literally like the only family he has, and he is aware he is completely dependent on her, and yet is convinced because he's so dependent he is actually actively dragging her down. So he basically constantly thinks to himself he doesn't deserve to be with her. And like. Informs her of this
Mamoru work on your pickup lines.
one thing certain across all continuities is that is Usagi dies Mamoru will pretty much stop working and become a pile of tears. like his brain will pretty much shut down and all light will leave his eyes
and then he will bury his face in his future daughter while clinging onto her and hugging the crap out of her sobbing and going on  about how "SHE'S SAVED MY LIFE SO MANY TIMES BUT I WASN'T ABLE TO PROTECT HER!!!!!"
intensely emotional for sure
Usagi (and later Chibiusa) are literally Mamoru's reason to live because he HAS NO ONE ELSE. I'm not exaggerating because he actually says this himself. In fact, because Usagi has so many friends who can help her, he literally wonders why he was born because if he isn't essential to Usagi's mission WHAT IS THE PURPOSE OF HIS LIFE? That is a frighteningly low level of self esteem yo.