So, I've been wanting to do this post for a while.
I've seen a few people complain about Winry beating on Ed and how it's domestic abuse and such, and that Winry only gets away with it because she's a girl.
It's not, and it's sort of bizarre and semi-offensive to compare manga slapstick where everyone recovers immediately to real domestic abuse? Also I find it really sexist that Winry is always singled out when just about basically everyone perpetuates slapstick against Ed in FMA. And Ed does it against others, including girls.
On a broader level, slapstick in Arakawa's work is not gendered in the least. Looking at FMA, Raiden-18 and Stray Dog, you see guys using slapstick violence against women as well.
But you don't have to believe me. I've bought visual aids.
1.Serious violence vs. slapstick
First of all, let's talk about how serious violence in Arakawa's work is represented.
Arakawa is pretty amazingly consistent about showing the effects real injuries have. Sure, it's shonen so everyone seems to bleed a lot and not die, but she actually acknowledges that blood loss makes people dizzy and weak during Ed's fight in Lab 5. Whenever anyone fights a bad guy, their injuries just don't go away quickly. Roy got stabbed in his fight with Lust, went to the hospital, checked out a little too early and so in the next fight his stitches popped open and he had to cut outta there. And Lust is a woman. So any idea that Arakawa doesn't think women can *really hurt men*- have you seen the damage her women deal out to men in their serious fights? Did you read this manga?
People wrote in asking why Ed has a cut or bandage on his forehead so much, and Arakawa said he got his forehead sliced in the laboratory, and from then on kept getting in fights so soon after the cut had barely closed up it just kept getting reopened again. 
In fact, there's a scene after the laboratory incident in the manga that perfectly demonstrates the extreme difference Arakawa places between slapstick violence and her *real violence*. And also shows that men "abuse" Ed just as much as Winry does. Winry rushes into the hospital to find that apparently Major Armstrong has put Ed in a full body cast because he hugged him too hard or something.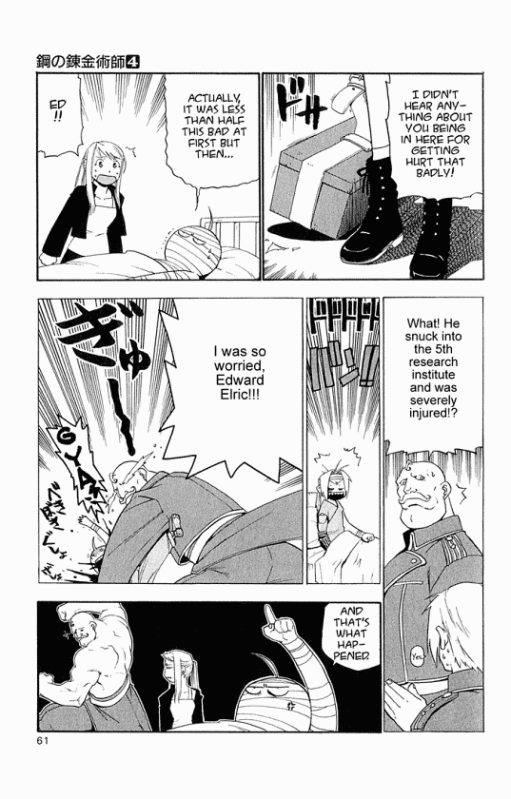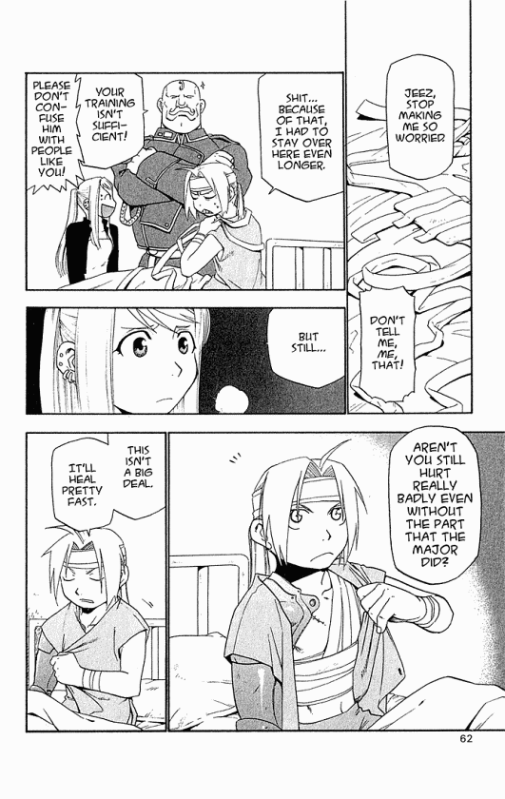 Notice Major Armstrong's complete lack of regret over badly injuring an already injured 15 year old boy. Ed just didn't have enough training to handle him, yo. Does this mean he's a heartless monster? No, because as soon as the gag has served it's purpose, Ed takes off the bandages and his injuries from the fight- his real injuries- are the focus. The injuries from Armstrong only existed for the basis of a gag, and then they're completely disappear like they've never existed. Winry even says "Geez, don't worry me like that" as in "Oh that wasn't a real injury that was an Armstrong injury okay let's move on".
But the injuries Ed got fighting Envy and co are a big freaking deal, something that causes Winry all the angst and will actually take time to heal like real injuries. It's pretty clear the violence committed by Armstrong isn't meant to be taken seriously, but the violence committed by the killer brothers and Envy is. 
I mean, if Winry is a monster for hitting Ed and making him spew blood when he goes out of his way to piss her off, the hulking Buccaneer is definitely a monster for hitting the tiny Ed and making him spew blood for no reason other than he has a pretty girlfriend and Buccaneer is jealous.
Yet no one scolds Buccaneer for this random violence and Ed doesn't hit back, even though he has no problem hitting people who piss him off. Why? Because it's not a serious thing. Ed's fine a panel later.
Winry's violence is exactly the same way. Of course hitting someone with a wrench isn't a thing you should ever do in real life. She's obviously not actually hitting him with a wrench or he'd be in the hospital every time. Just like Major Armstrong obviously didn't actually break all the bones in Ed's body or he wouldn't suddenly take off his bandages and be fine. In fact, the reason a wrench is Winry's weapon of choice is probably because Arakawa wants to make it really clear this is a gag that has no basis in reality. Ed will spew blood one panel and be perfectly fine the next. Spew blood, and then he's fine. That doesn't actually happen ever in real life. He even casually drinks tea while a wrench is embedded in his skull.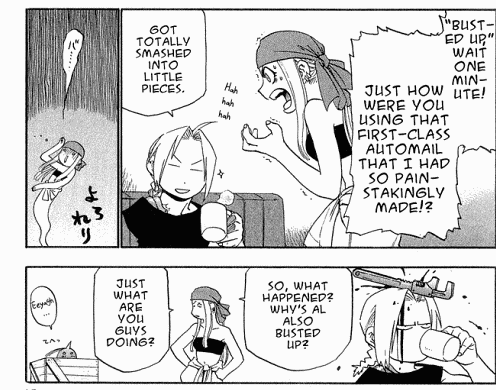 Also notice how Ed purposefully teases her and tries to make her mad, which is not how someone actually *terrified of her abuse* would really act. He thinks it's fun to get her mad, even if it leads to him being a slapstick victim.
2. Ed hits girls. And even Winry.
Also the whole idea that this makes Winry weak or whatever because it shows her violence to Ed doesn't matter while Ed cannot hit her back because girls are delicate is bullshit. Why? Because one, as seen above, Winry isn't the only person who hits Ed and Ed inexplicably doesn't retaliate
Also, it's not like Ed isn't afraid to hit girls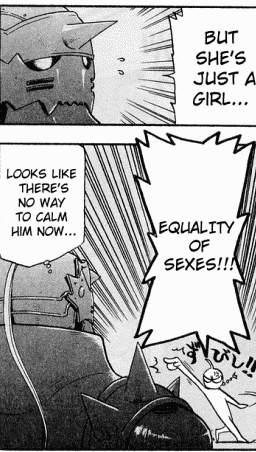 The translation here is bad, but the official version has Al saying "Kick her butt? Big brother, you're gonna hit a girl?" to which Ed responds "I'M NOT SEXIST!" and Al thinks "Why does that sound like a threat when he says it".
And later, Ed does indeed hit Paninya. Twice. Not even while in  a fight with her, as payback for stealing his watch. He really does have no compunction about hitting girls, and why not? This is a FMA. All the ladies he knows can kick his ass.
What's more, in the very same chapter, he proves he has no problem giving Winry as good as she gives if he's righteously pissed off. He's carrying an exhausted Winry on his back, and when she reveals she violated his privacy he casually DUMPS HER ON THE GROUND. Definitely he doesn't think Winry is delicate, and he has no problem with treating Winry roughly, just like she has no problem with treating him roughly..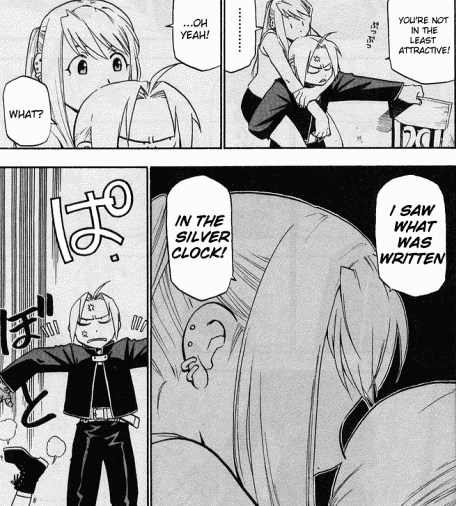 Ed also does some slapstick violence on Ling and Lan Fan. First, he physically kicks them both out of his room, and the second time he THROWS THEM OUT HIS FIFTH STORY WINDOW. In real life, the latter would be a serious crime (just like embedding a wrench in someone's skull) but here, once again, it is a gag, so it doesn't make Ed a monster.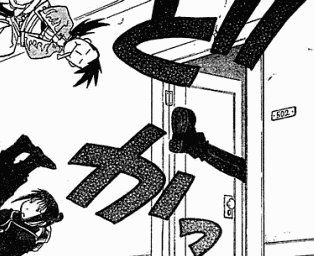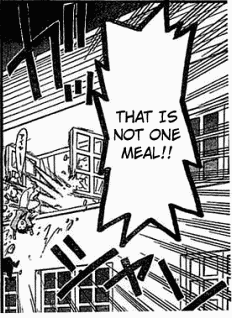 3. Guys subject ladies to slapstick violence in Arakawa's other works.
Finally, a look at Arakawa's other works shows that slapstick definitely knows no gender to her. Both Raiden-18 and Stray Dog have big muscular guys regularly beat women bloody for the lulz, and the women are fine the next panel. Guy-on-girl, girl-on-guy, guy-on-guy- Arakawa isn't afraid of any type of comedic violence.
In Raiden-18, the moral Frankenstien like protagonist CONSTANTLY is punching his immoral creator Dr. Tachibana into the atmosphere, or hitting her with a spiked club, or generally making her spew blood.
She also threatens to castrate him if he pisses her off too hard, fair's fair.
And in Stray Dog, the muscely protagonist often punches his charge, a teenage girl, into the atmosphere.
So, I think you can conclude that Winry doesn't get away with hitting Ed because she's a girl, Arakawa's slapstick violence is NOT meant to be taken seriously and her slapstick legitimately knows no gender. You can dislike the slapstick for "normalizing violence", but I gotta ask what you expect from a shounen manga if you go that route. But whatever you do, don't pin it on Winry or sexism.