As I said, I'm going to start with the more obscure ones.
Plot: Seirei no Moribito or Guardian of the Sacred Spirit centers around the journey of Balsa and her charge, Chagum. Balsa is a dedicated lady bodyguard, who finds heself drawn into the affairs of the Yogo Empire. The Yogo Empire is basically a fantasy version of Japan's Heian Empire with limited magic and a medevial lifestyle.
Balsa is hired by the Yogo Empress to protect Prince Chagum- a young boy who has apparently been possessed by a water demon. Once they learn about his possession, the court decides he must be killed for the sake of the Empire. Balsa takes on the charge, as she has vowed to save eight lives in penance for lives she claims she has taken. From there, we meet Balsa's allies, see Chagum and Balsa build a relationship, and get deeper into the mystery of the water demon.
Women and Gender: Seirei No Moribito has four main female characters, as well as a few extra women. It also directly confronts gender roles.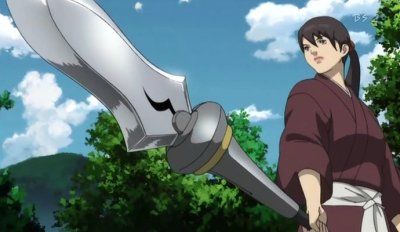 Balsa is the main character, obviously, and she's a skilled combatant and bodyguard, badass enough to take on elite assassins. In addition to being skilled, she's also intelligent and responsible. She employs strategy a lot and thinks things through carefully, and is dilligent in her protection of her charges. She's stoic and sometimes borders on being a little harsh at times, and can be provoked. But she's undeniably compassionate and principled, and has her nurturing side. She's pretty cynical to authority and feels she has much to atone for. The fact that she's a "tomboy" is commented on, but no one can deny she's very good at what she does, and she's never shamed for her toughness or the feminine traits she does exhibit. She dressed pretty practically for her line of work, wearing her hair back and a loincloth/long split skirt over pants. The only thing left uncovered are her muscular arms.
(As far as fanservice goes, the closest thing you'll get is the bath scene in the last episode, and it's not what you're thinking- she's covered in a white dress (that impossibly denies the wet t-shirt effect) with only her scarred back uncovered and the camera focuses  on that and her butt a bit, but not overtly so.)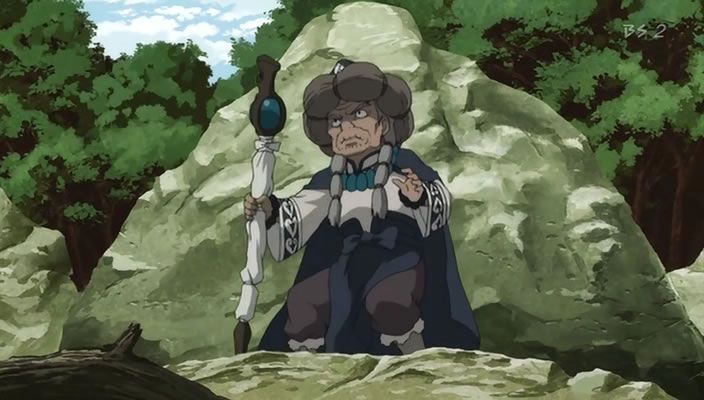 Shaman Torogai is the other most prominent female character in the show- she's an old shaman, but pretty much subverts all the "mystical old woman stereotypes", she's squat, bug-eyed, short tempered, down to earth and blunt (to the point of being quite funny), and not afraid to get scrappy and physical. She's actually probably my favorite character, if only because she's funny, fierce and like Balsa, pretty badass. Her apprentice is a young man who is Balsa's love interest, and he follows and respects her deeply- she taught him most of what he knows.
The other two female characters are the Empress- she's mostly defined by her role as mother, but she's clearly very intelligent as she recognized Balsa's skill and thus came up with a plan to save her son that defied authority and risked getting her killed, starting the plot of the whole show. She's clearly Chagum's most important relationship and influence, as he's not very close to his father at all (he doesn't even feel comfortable approaching him and the guy did sorta automatically go for having him killed). Chagum trusts in her ability to protect him. Then there's Saya. She's soft-spoken and painfully shy, likely because of the troubles in her past, and tends to be submissive. There is an episode centered on her that criticizes arranged mairrages, especially when forced on people like her who have a hard time saying no.
In addition, this is an exported version of the Heian era, so gender roles are firmly in place- it's clear guys have the most authority, and all the important court characters besides the Empress are dudes (the Empress herself doesn't have much in the way of power), but while they don't verbally denounce these gender roles, Balsa and Shaman Torogai do everything to subvert the hell out of them.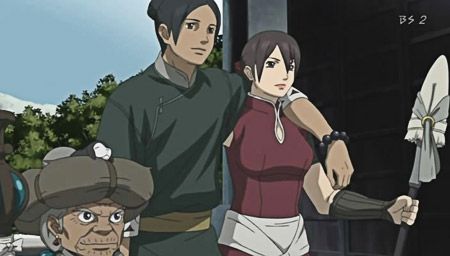 This is especially prominent with Balsa's love interest, Tanda. Tanda has the traits of a typical female love interest- he's domestic, nurturing, more sensitive to other people than Balsa or the Shaman, a pacifist, endlessly patient, he's a healer and he wants to settle down and have kids while his love interest is really not as interested. But Tanda is still an undeniably important and useful character,he's skilled at what he does and he's never shamed for his "feminine" qualities. He does lament once that the man is supposed to do the protecting and he really isn't (not in the novel, though), but he never devalues Balsa's skill or try to infringe on who she is. What's more, he's the protégé of Shaman Torogai and respects her deeply (though he's often embarrassed by her bluntness). Chagum and Touya also really look up to Balsa and learn how to be "tough" through her.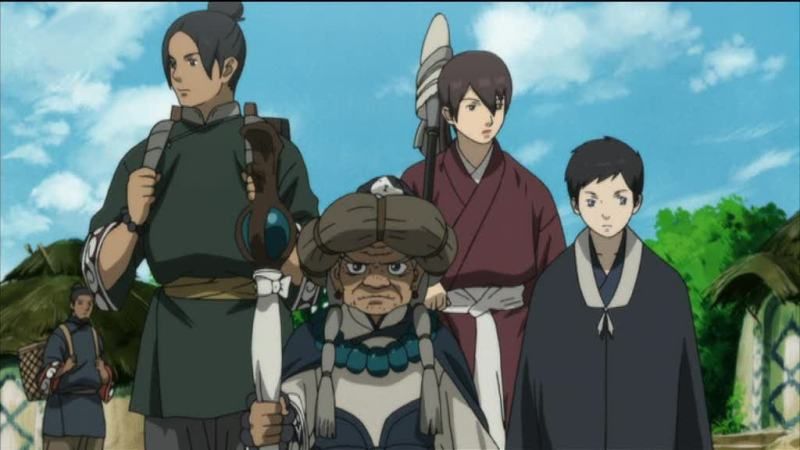 Race and Culture: Serei no Moribito is one of the rare anime that has a great portion of the characters be darker skinned. The indigenous Yakue tribe is a culture separate from the (Asian-looking) Yogo and entirely made up of darker skinned people. It's clear they've been marginalized within their country and the aristocracy doesn't consider the culture or knowledge to be worth much- but their knowledge and culture turns out to be essential to the fate of the world. Of the main characters, three are clearly darker skinned-  Balsa's love interest, Tanda, Shaman Torogai and Touya, a young boy Balsa saved previously who helps her out a lot throughout the story, and the self appointed protector of Saya. Each of these characters is shown to be intelligent in their own ways and useful. At one point, Balsa gets the aid of an entire Yakue village. The Yakue culture is not presented as superior to the Yogo, simply just as valuable and not something that should be ignored. The guy who raised Balsa is also implied to be part Yakue, as he is darker and the one who introduced Balsa to Tanda and Torogai.
LGBTQ: None- you won't find much focus on sexuality here. Despite the implied relationship between Balsa and Tanda and one other couple, don't expect to see an onscreen kiss.
Disability: None, which is a shame, it would have been interesting to see that handled in a medieval setting.
Weight: No fatphobia to be found- one of the assassins the court sends after Balsa has a little bit of a gut, and he's just as competent as the others- the assassins aren't evil, they're just obeying their emporer and pretty unhappy about it.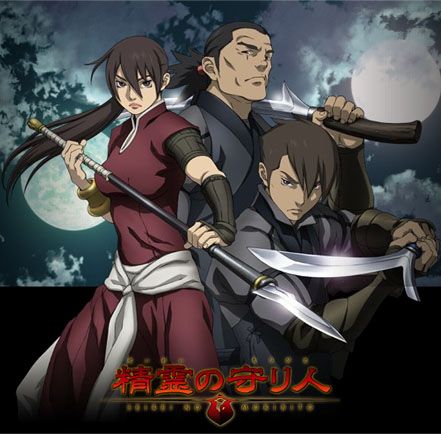 Awesome Things: I like how not all of the heroic characters aren't conventionally attractive. Touya has a severe overbite and Shaman Torogai resembles a frog in physical features. I also appreciate how muscular Balsa is. The animation is very detailed and pretty in general and the world building is pretty sound- a lot of the show deals with political complications. Nobody is really evil here either, there's just conflicting motivations, the morality is very grey.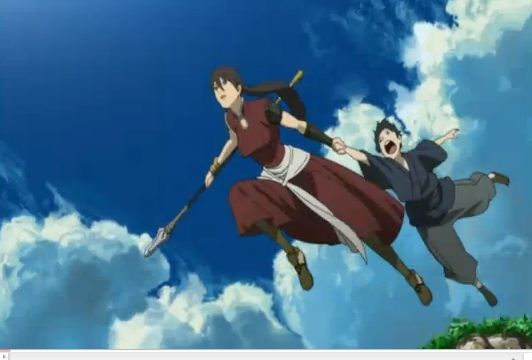 Triggers: As said, this is an exported fantasy version of Heian Japan, so traditional gender roles are present and you can expect our main characters to make really binary and exclusionary statements like "the man is supposed to do the protecting", "women have maternal instincts, men don't" and "Boys are easier to raise than girls." These aren't in the novels, generally, though. While these statements go verbally unchallenged, the actions of the characters tend to subvert them (Balsa does the protecting, the men demonstrate maternal instincts, Balsa looks to have been no more difficult to raise than Chagum). There's also adults smacking children around (just once or twice though and not severely) as an acceptable form of punishment.
The series runs twenty-six episodes and is based off a light novel that's  a condensed version of events (there are sequels that go past the story of the anime, but I have yet to read them). The novel follows all the stuff above, except actually with less sexist comments from the characters. I have yet to read the sequel novel, but I've ordered it, and it looks to be in the same vein. The anime is available on Crunchy Roll or Hulu, and you can download it from Eclipse fansubs. I'm unsure of the quality of the dub, I haven't watched it.